July 2016 final days of the month
Up before sunrise
So when the sun does rise we get a real treat...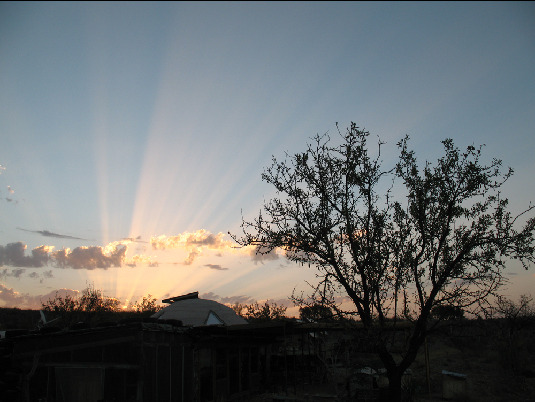 Beautiful sunrise over the geodesic dome
Water catch and first stage filter
It's been ages since I've made a video, so when I did this it felt like the very first time, me and my memory!
I thought it was a good way for you to see what we're working on.
Please leave some feedback in the comments section below, if they're not too rude I may start doing more videos!!!
Scorpion encounter
Isn't he cute? No? Ok, maybe not.
Dave came across him snoozing under the black plastic when he was re-arranging it. We don't see them often, and they're not aggressive, but this is why it's always good to wear gloves when working here coz ya never know. And a sting from one of these little fellas involves a trip to the hospital.
Caught in a jam jar, then transferred to a new hidey hole very far from where we're working and all is calm again.
| | | |
| --- | --- | --- |
| | | Scorpion - Buthus occidentalis |
Add your comment